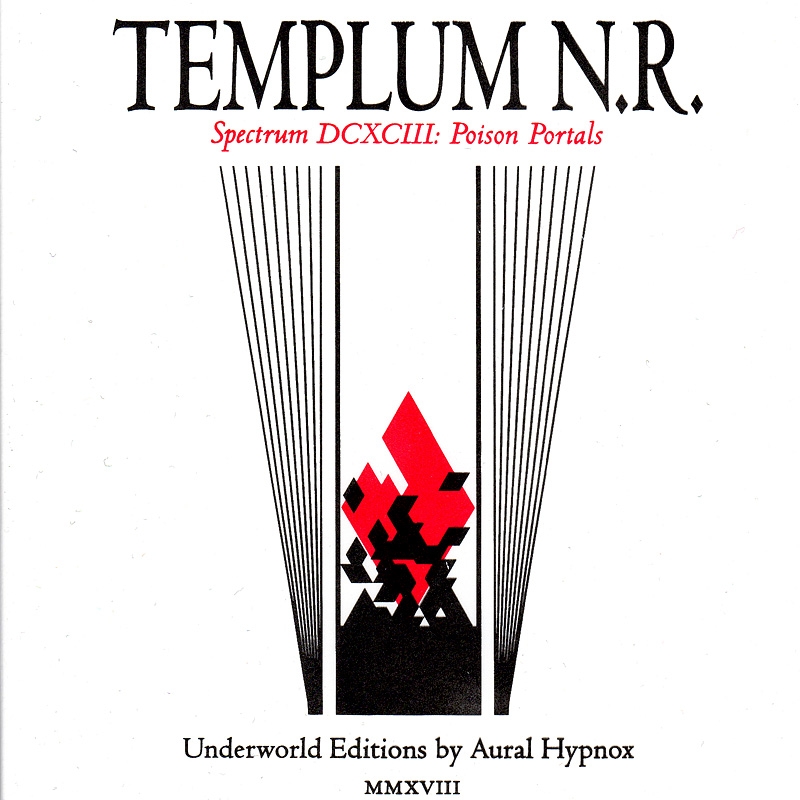 Templum N.R. – Spectrum DCXCIII: Poison Portals
Label: Aural Hypnox ‎– AHUE07
Series: Underworld Editions
Format: CD, Album, Limited Edition, Reissue
Country: Finland
Released: 25 May 2018
Style: Abstract, Dark Ambient, Electro, Noise, Monolog
«On one hazy night I met an elderly man sitting in an old wooden chair. He was wearing an elegant white suit and I could not help noticing the simple white lines in his fore- and middle fingers. In the remaining fingers he had circles. The pitch-black sand of the shore absorbed all the light from the sky. Regardless, I saw fifty-meter-high waves crashing down behind him – and at the same time, they remained static.»
'Spectrum DCXCIII: Poison Portals' has a luring, fatal beauty of its own. Redirecting, throbbing analog electronics, slowly swallowing droning textures and sinuous rhythms are accompanied with eternal, eerie melodies – all reeking of the primordial pleasures. Obscure radio transmissions and telepathic resonances are emerging from the parallel universes and will sink you even deeper into the ignorance of your very self or towards the ravishing beauty of transformation.
The other worlds and realities are present both in sound and vision; A triple-bladed iron dagger, brought to this world through trancework. Assume its form, pass the Poison Portals, and continue until the opposites intermingle and known territories vanish beneath the colossal waves.
This CD version also includes the previously limited 'The Mass Rattle' ep with tracks 'The Viscous Tomb Liquid' and a Telepath Remix of the 'I am His Sacrifice'.
The album is enclosed in a customised and screen printed Sublunar series cardboard covers, including five two-sided insert cards. Limited to 300 copies.
Buy: https://gh-records.com/home/2379-templum-nr-spectrum-dcxciii-poison-portals.html