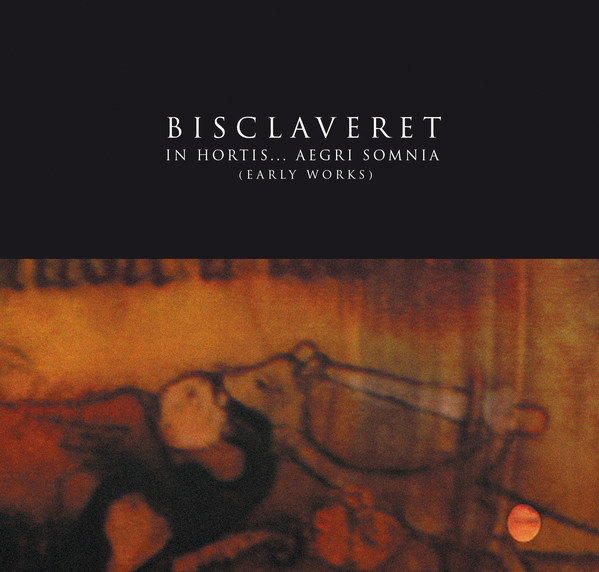 Bisclaveret ‎– in hortis… aegri somnia (early recordings)
Label: Dark Vinyl Records ‎– DV63
Format: CD, Album, Compilation
Country: Germany
Released: 2015
Style: Dark Ambient
Tracks 2, 3, 7 – previously released on "… Aegri Somnia" EP (2001)
Tracks 1, 4, 5, 6 – previously released on "In Hortis …" EP (2003)
Tracks 8, 9 – previously unreleased
Tracks 10, 11, 12 – previously released on live album "Er Roud El Aater fi Nezaha El Khater" in series I4I (2005)
Track 13 – it was intro opening Bisclaveret' live performances in 2001-2003
On its 15th anniversary, Bisclaveret has gathered a special compilation collecting early recordings, lifted mainly from their first CDR releases»Aegri Somnia» and "In Hortis", but also adding a few individual songs from their concert album "Er Roud El Aater fi Nezaha El Khater" and a number of rarities: versions and unreleased songs. The whole material has been designed in such a way that it creates a coherent album. The material has been re-mastered by Łukasz Miernik (often appearing live with Bisclaveret), who is also responsible for the sound of the last disc "Theu Anagnosis".
"In Hortis… Aegri Somnia" is a summary of the early activities of the group, a reminder of archival recordings that, although they differ stylistically from what the band is performing today, show what the evolution of Bisclaveret sound looked like. The evolution of the band
which has been firmly rooted in the ambient scene since its very beginning.
Buy: 13 € http://gh-records.com/1437-bisclaveret-in-hortis-aegri-somnia-early-recordings.html
Payment methods:
PayPal
Pay by bankwire
Pay whith cash on delivery (COD)