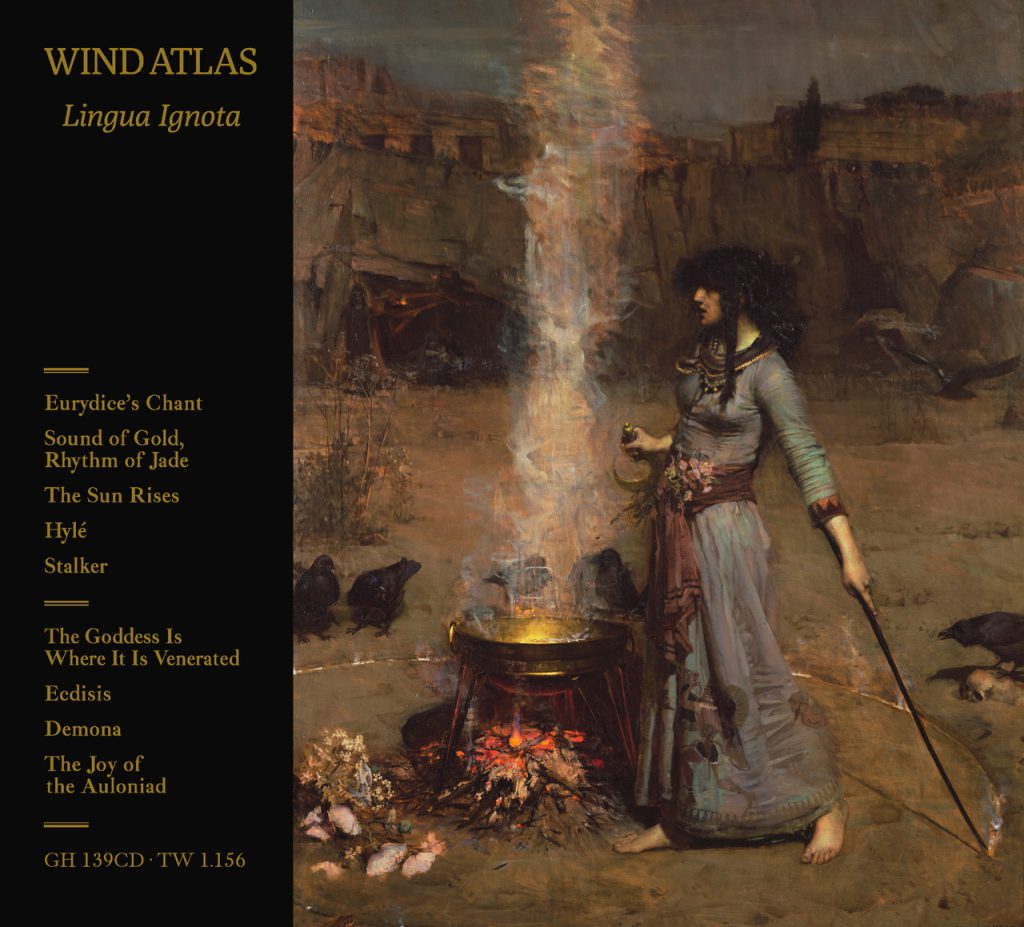 Wind Atlas ‎– Lingua Ignota
Label: Gradual Hate Records ‎– GH139 CD, Twilight Records ‎– TW 1.156
Format: CD, Album
Country: Spain
Released: June 2018
Style: Darkwave, Folk, Psychedelic Rock, Post-Punk, Experimental
Recorded and mixed by Javier Ortiz Fullton at Estudios Brazil in december 2014. Studio Assistant: Marcos Bandera. Mastered at Yves Roussel Mastering by Yves Roussel in january 2015. Cover art is "Magic Circle" (1886) by John William Waterhouse. Artwork designed by Raúl Q. de Orte.
Credits
Backing Vocals – Raúl Pérez Pérez, Raúl Q. De Orte, Sergi Alejandre
Bass – Iván Montero
Bouzouki – Sergi Alejandre
Drums – Raúl Pérez Pérez
Guitar – Sergi Alejandre
Lead Vocals – Andrea Pérez
Mastered By – Ives Roussel
Mixed By – Javier Ortiz
Recorded By – Javier Ortiz
Santoor – Raúl Pérez Pérez
Synth – Raúl Q. De Orte
Wind Atlas' music has gained in nuances, drifting smoothly from dark dream-pop and new-wave passages (which remind us of Dead Can Dance) to gloomy postpunk atmospheres similar to those of Crispy Ambulance, Durruti Column or In Camera.
Music to think of an unknown continent, to look for the lost alchemical formula, to eventually discover Talos the robot hurling rocks at the Argonauts. Music that requires to do nothing but listen, a task that nowadays appears almost impossible.
The message is conveyed in an imagined language from a terra incognita, the lingua ignota. Each song is like an accent or a period, like a comma, a verse, a whole chapter of a liturgical chant. Gibberish for those who relish the best soundtrack by Basil Poledouris and the 4AD catalogue.
The album was recorded in Estudio Brazil (Madrid) with Javier Ortiz and mastered in Yves Roussel Mastering (Barcelona).
"Wind Atlas, if "Ecdisis" is any indication, sound a bit like Sioux Sioux after the Banshees broke up, if she had gone in a more interesting direction. Or maybe if Peter Murphy had started a project with Sioux Sioux? Something like that. Truth is, it doesn't matter once those early Edge/Chameleons guitars, full of melodic urgency despite their simplicity, hit; the ritualistic feel of the backing turns up their immediacy even more, to the point where the whole composition seems to depend on them.
But that voice, ringing through the ether, also needs something, anything, to happen, lest the sands of time swallow her whole. It's a mystical, otherworldly trip…"
La música de Wind Atlas es rica en detalles, deslizándose refinádamente de oscuros pasajes dream pop new wave (que bien traen a la memoria a Dead can Dance) a la bruma de atmósferas postpunk que podían hacer grupos como Crispy Ambulance, Durruti Column o In camera.
Música para pensar en un continente no conocido, buscando una formula alquímica perdida, y acabar descubriendo al robot de Talos apedreando argonautas. Mejor dejémoslo así, en no hacer nada mientras se escucha, una tarea que se nos plantea hoy en día imposible.
El mensaje se proyecta en un idioma imaginado de una terra incognita, la lengua ignota. Cada canción es como una tilde o un punto, como una coma, un versículo, un capitulo entero de un canto litúrgico. Un galimatías entre quienes disfrutan de la mejor banda sonora compuesta por Basil Poledouris y el catalogo de 4AD.
1.Eurydice's Chant 02:38
2.Sound Of Gold, Rhythm Of Jade 05:17
3.The Sun Rises 03:47
4.Hylé 02:40
5.Stalker 05:13
6.The Goddess Is Where It Is Venerated 05:43
7.Ecdisis 04:44
8.Demona 06:35
9.The Joy Of The Auloniad 02:30
Buy: https://gh-records.com/shoegazer/2015-wind-atlas-lingua-ignota.html